Description - iOS app / Voice Sonogram

"Voice Sonogram" is sound spectrogram app that expresses color intensity by frequency analysis of temporally continuous sounds. The sound spectrogram is used for acoustic analysis and voiceprint appraisal.
This app uses some sound analysis techniques such as FFT and Wavelet transform, and graphs the analysis results. It can be easily analyzed voices and instrument sounds, or you can learn elementary sound analysis.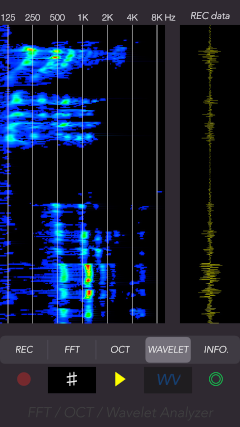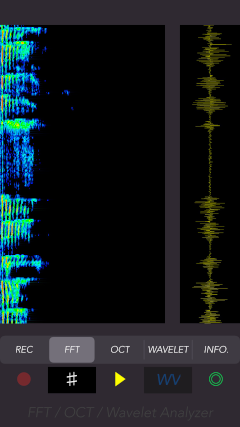 Please to click the following link to download "Voice Sonogram" app from App StoreTM. It will be open the download page on App StoreTM.

Communications charges when connecting to the App Store will be borne by the customer.

iPhone, AirPlay is a trademark of Apple Inc., registered in the U.S. and other countries. App Store is a service mark of Apple Inc.
Products Information
Version : 1.0

Release date : October 24, 2019

Size : 2.7 MB

Category : Education, Music

Recommendation : Compatible with iPhone. Requires iOS 13.1 or later.
Features
"Voice Sonogram" has the following features:
Analyze the sound data recorded from the built-in microphone.

FFT, Octave band analysis, and Wavelet transform can be selected.

Analysis result graph and time axis sound waveform can be compared in playback.

Snapshot: Save the analysis result in Photos.
Specification
Sampling frequency: 48kHz

Recording time: Approximately 3 seconds

Discrete Fourier transform: FFT (2048 points)

Octave band analysis: 1/48 octave band

Wavelet transform: Gabor Wavelet

Graph display: vertical axis - time (0 - 3.0 sec), horizontal axis - frequency (100Hz - 8000Hz)
Applications
Visualization analysis of the sound source, such as voice, conversation, animal sounds and instrument sounds.

Analysis of the sound configuration, such as music performance.

Learning elementary sound analysis

Various acoustic testing and others.
Spectrogram
The spectrogram is a graphical image with two geometric dimensions that the horizontal axis represents time and the vertical axis is frequency, and the addtional third dimension is indicating the amplitude of a particular frequency at a particular time that is represented by colour of each point in the image.
Measurement display X-axis - time(sec)

Measurement display Y-axis - frequency(Hz)

Measurement display color image - signal's amplitude
Basic Operations
The access permission to the microphone will be confirmed from the iOS system at the first start-up. Please enable access to the microphone.
The top view includes the mode selections and the control buttons and the trace display. The mode have 5 types of REC, FFT, OCT, WAVELET and INFO. The control buttons are Recording (red circle icon), Graph scale display (#), Replay (triangle icon), Wavelet transform (WV), and Snapshot (double circle icon), in order from the lower left.
As a basic operation, first select the REC mode, tap the record button and record the sound, and the sound analysis (FFT and octave band analysis) will be performed automatically.
Furthermore, if wavelet analysis is required, tap "WV" button to perform Wavelet conversion processing.
Tap the mode button to switch between the trace display by the acoustic analysis method.
Recording: Record the target sound you want to analyze with the built-in microphone.




When tap the record button, sound recording (about 3 seconds) starts and is temporarily saved as sound recording data. After recording, FFT and Octave band analysis are performed. When this calculation process is completed, it switches to FFT mode and the analysis results are displayed.






FFT: Displays the sound spectrogram by FFT analysis.






OCT: Displays the spectrogram of the octave band analysis results.
It is the analysis result of frequency division into 1/48 octave bands based on the frequency component data obtained by FFT.






WAVELET: Displays sound spectrogram by wavelet analysis.
Tap "WV" button to start wavelet analysis. This computation process takes a little processing time, and it depends on the terminal model. When this operation is complete, it displayes the spectrogram of the wavelet analysis results.







Replay: Sound playback is performed and the sound waveform and acoustic analysis results are displayed simultaneously. The current playback position is indicated by the cursor.






Graph scale: Tap "#" button to turn on/off the graph scale on the trace display.




Snapshot

Snapshot captures the trace display as a still image.

Tap Snapshot button, the trace display image is saved PNG file format to Photos. A time stamp is inserted into the image. File name is IMG_xxxx.png.

At the first use, the confirmation of access to Photos is required once on iOS system.

INFO

It is displayed the product information, app usage, and support links.

If you tap "Support/Information" button, Safari app is launched and jumped to the support page.




Note

At the time of the first access to microphone and photos after installing the app, you will be asked permission to access them from the iOS. If you did not enable this setting on this time, it can not be access from the app by privacy restrictions of the iOS. Please enable slide switch of the app in the access permission of the iOS setting, "Settings > Privacy > Photos or Microphone".

Wavelet transform has a large amount of calculation, so the processing load may be depending on the iPhone model, and it may take time to display the analysis result.

Information

Version 1.0 was released on October 24, 2019.

Request for review

Please send a review of your comments and requests for this app. We will use your review to improve our products. Thank you for your cooperation.

Please fill in your review by accessing from iOS device.

Contact us

Inquire about this app please from below!

Support contact : support_ap@toon-llc.com

Please contact us with the following details if you have any requests or problems.

1. Application name

2. Device model

3. iOS version

4. Country you live

5. Details about your requests or problems.

(note: Please enter the at sign of the mail address in lowercase letters.)

Return to Top